Norwegian, Alibaba Partner in Chinese Cruise Market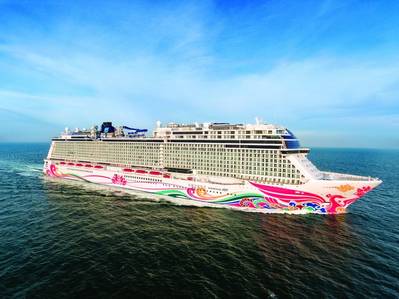 Norwegian Cruise Line Holdings Ltd. said it has partnered with online and mobile commerce company Alibaba Group for its entry into the Chinese cruise shipping market.
Alibaba operates the world's largest online and mobile marketplaces, offering a wide range of products and services to its nearly half billion monthly active users. In China, people live, work and play on Alibaba, buying local and overseas products, and enjoying its entertainment and lifestyle services – travel, food delivery and social networking.
Utilizing Alibaba's ecosystem for engaging consumers, the two companies will look to further increase the awareness in China of the offerings of a cruise vacation in what is forecasted to become the cruise industry's second-largest source market. The companies will also collaborate to provide Alibaba customers with new and unique online-to-offline (O2O) experiences at sea across Norwegian's China-based and global fleet.
"The partnership with Alibaba complements our strong, existing relationships with our loyal travel agents to provide unmatched insight into what Chinese travelers look for in a vacation experience," said David Herrera, President, NCLH China. "The combination of Norwegian's expertise in delivering memorable vacation experiences, Alibaba's insights into Chinese consumer behavior and our travel agents' knowledge of the preferences of Chinese travelers will create a cruise product unequaled in China."
Michael Evans, President of Alibaba Group, said, "Our expanded relationship is another example of how Alibaba is helping international brands to reach Chinese consumers through our robust data, marketing and technology."
The announcement comes as Norwegian prepares to enter the Chinese cruise market in June 2017 with the introduction of the 3,850 passenger Norwegian Joy, a cruise ship designed and constructed specifically for Chinese travelers. Norwegian Joy will be the 25th ship in Norwegian's fleet across its three brands – Norwegian Cruise Line,
Oceania Cruises
and
Regent Seven Seas Cruises
.
Frank Del Rio, president and chief executive officer of Norwegian Cruise Line Holdings, said, "Our partnership with Alibaba will combine Norwegian's history of innovation in the cruise industry and our entry into the Chinese cruise market with Norwegian Joy with Alibaba's extensive knowledge of China's consumer base and its unique ecosystem which continually reaches consumers in new and ever-expanding ways."
Norwegian took delivery of Norwegian Joy on April 27, after which the ship began her repositioning from the shipyard in Germany to her home port of Shanghai. Her inaugural and christening gala ceremony will take place on June 27 in Shanghai, featuring the ship's Godfather, 'King of Chinese Pop', Wang Leehom.