Dubai Maritime City Partners with Norwegian Salmon Company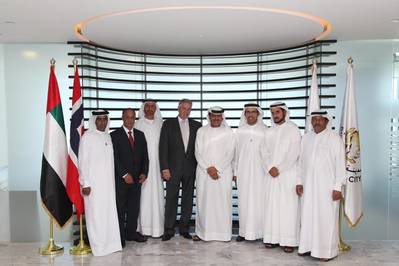 Maritime cluster Dubai Maritime City has announced its partnership with SalMar ASA, a Norwegian salmon farming company. The Dubai Cooperative Society for Fishermen, a Dubai government entity is supporting the new partnership. The venture is reportedly a "first-of-its-kind" in Dubai and proposes to build a state-of-the-art salmon house in the Emirate.

Dubai Maritime City (DMC) has been supporting the specific needs of Fishermen collaboratively with the Dubai Cooperative Society for Fishermen. Khamis Juma Buamim, Chairman of Drydocks World & Maritime World said, "This is a novel initiative and would encourage the growth of similar such ventures that would be highly beneficial for the local fishing community. We are working closely with the Dubai Cooperative Society for Fishermen on more such ventures that would alleviate the conditions of local fishermen and bring them into the commercial mainstream so that they can compete on a global scale."

"This will be the first in the region - and we hope over time - leading salmon specialist in the region. Over time we will be able to supply a full portfolio of salmon products in a range of markets reachable from UAE", said Gunnar Foss, Chairman of Arctic Marine Industries AS, the company that will execute and manage the ambitious partnership.

Major General / Mohammed Saeed Mohammed Al Marri - Chairman of the Board of Directors of Dubai Cooperative Society for Fishermen said, "The smoked salmon factory is an important qualitative leap that will pose a great addition. We believe in developing a spirit of cooperation between the fishermen to improve their economic and social conditions. We are delighted that SalMar, which is the second largest company in Norway, plans to set up the largest factory for smoked salmon in the region. We recognize the prominent role played by Dubai Maritime City in the project and express our sincere gratitude and appreciation to H.E. Khamis Juma Buamim, Chairman of Drydocks World & Maritime World for his support and cooperation."

For Norwegian SalMar the partnership is intended to be a new step in a long term plan to provide highest quality Norwegian salmon products to prioritized geographical growth markets.

"We are impressed by the dedication to quality and service we meet with our partners in Dubai and are particularly happy that the partnership is announced in the context of Dubai being a candidate city for World Expo 2020. We are fully supporting the high industrial ambitions of the Authorities of Dubai," said Yngve Myhre, the CEO of SalMar ASA.