Oceaneering Charters, Renames Offshore Vessel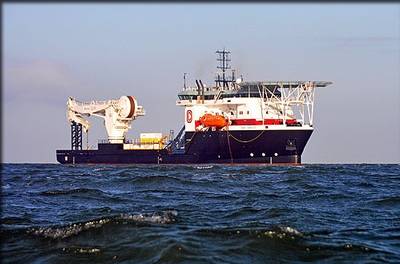 Oceaneering International charters multi-purpose subsea support vessel 'Cade Candies' for 5 years from Otto Candies LLC.
This state-of-the-art, U.S. flagged vessel was built in 2010. It has an overall length of approximately 309 feet (94 meters), a Class 2 dynamic positioning system, accommodations for 69 personnel, a helideck, a 150-ton active heave compensated crane, and a working moonpool.

Oceaneering's current rolling, short-term charter contract on the Cade Candies, in place since November 2011, will continue through early 2013. At that time, the vessel will enter a shipyard to undergo modifications to enhance its project capabilities. While in the shipyard, Oceaneering's two, high-specification, work class ROVs onboard the vessel will be repositioned and fully integrated into the vessel for more effective operations. The vessel will also be equipped with a satellite communications system capable of transmitting streaming video for real-time work observation by shore personnel.

To be renamed the Ocean Alliance, the vessel will be used to augment Oceaneering's ability to provide subsea intervention services in the ultra-deep waters of the Gulf of Mexico (GOM). These services are required to perform inspection, maintenance, and repair (IMR) projects and hardware installations. IMR projects are expected to include chemical well stimulation and hydrate remediation. Hardware installations are expected to include umbilicals, subsea trees, flowline jumpers, flying leads, and manifolds.