OceanGate Dives on Black Elk Energy's 'Idle Iron'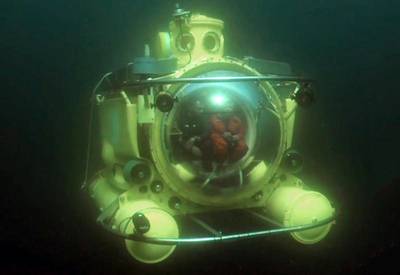 Deep-sea manned submersible operations provider, OceanGate, has completed a series of dives in the Gulf of Mexico to observe the ecological impact of decommissioned oil platforms on ocean life using the 5-person manned submersible Antipodes.

This expedition was part of an initial study related to the "Rigs to Reefs" program, a critical issue in the decommissioning of platforms in the Gulf of Mexico and around the world, and highlighted the unique ability of manned submersibles to collect a wide range of data, environmental information, and assessments around oil platforms.

OGI's ability to work alone or in tandem with AUVs and ROVs facilitates work in offshore environments for a variety of operations including structural surveys, pipeline inspections, bottom debris surveys, and subsea facility inspections was demonstrated.

OceanGate's expert crew took leading researcher and coral expert Dr. Paul W. Sammarco and CBS news reporter Chip Reid to South Timbalier 185 B, owned by Black Elk Energy, whose CEO John Hoffman was also onboard with his team to help guide the effort and ensure data observation efforts were aligned with inspection and safety requirements.

Known as "Idle Iron," retired platforms in many sites across the Gulf of Mexico have evolved into the perfect hosts for a complex and diverse set of species that are thriving and reestablishing underwater footprints, much as they do around artificial reefs. Along with collecting data, the expedition allowed stakeholders, including researchers, media, and engineers, the chance to see the environment first-hand and in real time with the flexibility to change mission operations on the fly.

"The Black Elk dive clearly establishes the viability of manned submersibles in the oil and gas industry, especially in the application of environmental assessments and inspections," said Stockton Rush, founder and CEO of OceanGate.