Ocean-going Patrol Vessel Delivered to RNN by Damen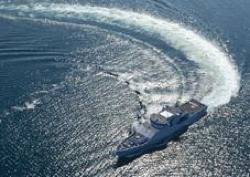 Transfer of 3rd Holland Class patrol vessel 'Friesland' by Damen Schelde Naval Shipbuilding to RNN
In Harlingen the third of four Holland Class Oceangoing Patrol Vessels, "Friesland" built by Damen Schelde Naval Shipbuilding for the Royal Netherlands Navy, was transferred to the Defence Materiel Organization of the Ministry of Defence of the Netherlands.
After delivery the Friesland will directly start an extensive testing and work-up program, yet without the Thales Integrated Mast Module (IMM), which will be installed early 2014.
Holland Class OPV's
The four vessels of the Holland Class OPV's measure 108 metres in length and 16 metres in width with a displacement of approximately 3750 tons.
They offer hangar space and landing facilities for one NH-90 helicopter or equivalent types. Their armament consists of one 76 mm Oto-Melara gun, one rapid-fire 30 mm gun and two 12.7 mm Hitrole machine guns. The weapons all have full remote control. Thanks to the state-of-the-art sensor and communication technology in the Integrated Mast Module (IMM), detection and tracking of high- and low-altitude air targets, fast boats, periscopes, mines and even swimmers will be possible.
The first two patrol vessels, "Holland" and "'Zeeland" were built at the shipyard of Damen Schelde Naval Shipbuilding in Vlissingen, with a number of sections being supplied by the Damen shipyard in Galati.
The third and fourth vessels, "Friesland" and "Groningen" are built at the Damen shipyard in Galati under the supervision of Damen Schelde Naval Shipbuilding. Sea Acceptance Trials of the "Groningen" are expected to be completed end of April. Early June she will sail to the Damen Schelde Naval Shipbuilding yard for final outfitting of certain systems and components.