Scripps Sells Oceanographic Research Vessel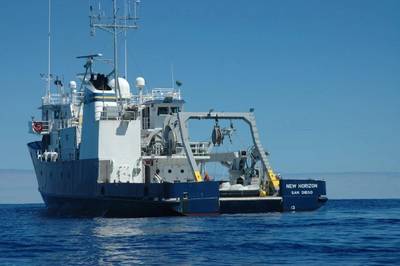 Purpose-built oceanographic research and survey vessel New Horizon has been sold from the Scripps Institute of Oceanography to private interests, announced ship broker Marcon International, Inc.
New Horizon will continue to work under her new ownership as a U.S. flag research and survey vessel.
The 170' loa x 36' beam x 15' depth / 12.76' draft New Horizon was specially built as a dedicated oceanographic research ship for Scripps, whose research vessels and research platform make up one of the largest academic fleets in the world. New Horizon's design originated in a 1965 to develop specifications for a new class of research ships to replace the aging R/V Horizon, the 143', 1944 built former Auxiliary Fleet Tug "ATA-180" and other converted ships used in oceanographic research. The plans included many innovative features such as use of a shallow-draft broad-beam workboat hull with house forward with hull form modifications for better "sea-kindliness", careful design to keep admeasured tonnage below 300 tons, provision of standardized bolt-down fittings at 2-foot spacing on deck and within lab spaces, provision for "portability" of deck equipment, and use of standard ISO vans for additional lab spaces, living spaces, explosives magazines, and deck equipment. The contract to build New Horizon was awarded to Atlantic Marine, Inc., of Fort George Island, Florida in 1977. The $4 million ship was completed in October 1978 in time to join the Scripps fleet during the year of the institution's 75th anniversary.
Over the years, New Horizon worked in many regions of the ocean except the polar seas, but primarily in the eastern North Pacific Ocean. A large proportion of her cruises took place offshore of California and Baja California. She was engaged in all fields of oceanographic research and known for flexibility in design, ability to keep station precisely and rapid turn-around capability.
New Horizon is classed ABS +A1, (E), +AMS with an International Load Line Certificate. Her capacities include 1,730ft2 clear deck, 1,265ft2 lab space, a 41" diameter instrument well, 40,000g fuel, 8,736g potable water and a 960gpd water maker. Deck equipment included a Nautilus 3300-065 4,000lb crane and 11,500lb aft-mounted A-frame over a 12' wide x 7' long x 3' deep sloped stern ramp. She is powered with twin CAT D398B main engines developing 1,700BHP total at 1,225RPM. Two Heimdal bronze controllable pitch propellers are driven through 3.9:1 gears, delivering a speed of up-to 13.5 knots. Her maneuverability is enhanced by a 250kW bow thruster. The vessel has long legs with range of 9,600nm and endurance of 40 days while providing accommodations for up-to 12 crew and 19 scientists.
New Horizon is the third vessel which Marcon brokered to or from Scripps Institute of Oceanography as sole broker. In 1984, Marcon brokered the sale of the former 125' x 32' supply / geophysical survey vessel Midnight Alaskan (now the Robert Gordon Sproul) from Louisiana sellers to the Institution as a replacement for the 96' x 24' research vessel Ellen B. Scripps, which Marcon sold to a Southern California construction company.
New Horizon may be developed for time charter from her new owners through Marcon International, Inc., subject of course to her availability at time of commitment.