Loss of the Tall Ship Bounty: Official Report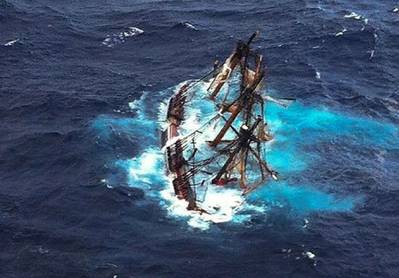 The U.S. National Transportation Safety Board has determined that the probable cause of the sinking of tall ship 'Bounty' was the captain's reckless decision to sail the vessel into the well forecasted path of Hurricane Sandy, which subjected the aging vessel and the inexperienced crew to conditions from which the vessel could not recover. Contributing to the sinking was the lack of effective safety oversight by the vessel organization.

On October 29, 2012, the tall ship Bounty sank off Cape Hatteras, North Carolina, while attempting to transit through the forecasted path of Hurricane Sandy. Three of the 16 people on board were seriously injured, one crew member died, and the captain was never found. The vessel's estimated value was $4 million.
Background
The National Transportation Board inform that the Bounty was a replica of the original 18th Century British Admiralty vessel of the same name. MGM Studios built the vessel to be featured in the 1962 motion picture "Mutiny on the Bounty." The vessel was larger than its namesake to accommodate filming equipment and personnel. After filming concluded, the Bounty traveled the world on a promotional tour for the movie.

In 1965, the vessel arrived in St. Petersburg, Florida, where it spent most of the next 21 years, primarily as a dockside tourist attraction.

In 1986, Turner Broadcasting bought the Bounty and in 1993 donated the vessel to the city of Fall River, Massachusetts, where it sat in disrepair until 2001, when the current management company, HMS Bounty Organization, LLC (or "vessel organization"), bought the vessel. The vessel organization consisted of the owner and a director of shoreside operations, and the Bounty was the only vessel that it operated. The vessel organization had listed the Bounty for sale in 2010 and was still trying to sell the vessel when it sank.