Gibdock Nets Another Offshore Client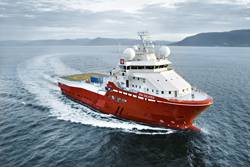 Gibraltar-based shiprepair yard Gibdock has added another name to its increasingly long list of clients in the offshore sector. In September the yard drydocked the 3000grt Boa Galatea, an offshore survey vessel, for Norway's Boa Offshore.
This is the first time that the family-owned Boa Offshore business, which operates a fleet of over 40 offshore vessels, has used Gibdock, and comes hard on the heels of other offshore vessel contracts handled this year by the yard for Solstad, DOF and others.
Richard Beards, Gibdock commercial director, says, "Boa Offshore is a significant new customer and shows the yard is continuing to strengthen its position as an important partner for offshore vessel operators in the Mediterranean and Atlantic Basin markets. Our strategic location makes us particularly attractive for companies repositioning vessels via the Suez Canal to new assignments offshore Brazil and West Africa, both areas of very strong demand, as there is zero deviation."
During Boa Galatea's ten day stay in the yard Gibdock carried out a range of standard drydocking works, including environmentally friendly wet blasting, painting and service work to the azimuth thrusters. The latter was carried out together with specialist technicians from the manufacturer, Brunvoll. "The azimuth thruster part of this project especially benefitted from our ability to change the height of the dock using special 'dock blocks'. These facilitated access to the thrusters, making the necessary maintenance tasks easier than they would otherwise have been," Mr Beards points out.


Boa Galatea is one of two specialised seabed logging vessels owned by Boa Offshore and was delivered in 2009 by the Norwegian Bergen Fosen shipyard. The vessel is on a long term charter with another Norwegian firm, EMGS. EMGS has recently been contracted to perform survey work offshore Brazil by Petrobras and Boa Galatea has been assigned to carry out the necessary data acquisition.