UK Offshore Wind Farm Support Vessel Launched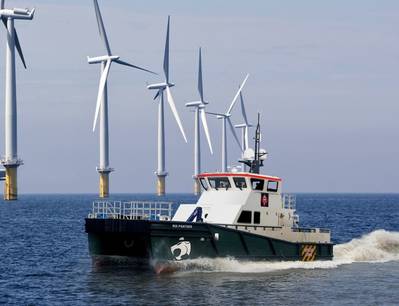 First of five boats ordered by Rix Sea Shuttle launched in Grimsby, NE England.

The vessel will be employed in the transport of maintenance engineers to and from offshore wind turbines in the North Sea.

Each of the aluminium vessels will be crewed and operated by Rix and are designed to carry up to 12 technicians at a speed of up to 25 knots.

The remaining boats are to be delivered next year and in 2014, representing a £7.5m investment by the Hull-based company in the UK's burgeoning renewable industry.

Powered by twin Cummins QSK 19,800 bhp diesel engines, coupled to ZF 2000V gearboxes and driving twin five-bladed propellors the new boat achieves a cruising speed of 24 knots and has demonstrated exceptional sea-keeping characteristics.

The boats are built by Alnmaritec based at an historic site in the Port of Blyth on the northeast coast of the UK, specialists in the design and construction of aluminium alloy workboats.