Offshore Asset Safety System Launched by Raytheon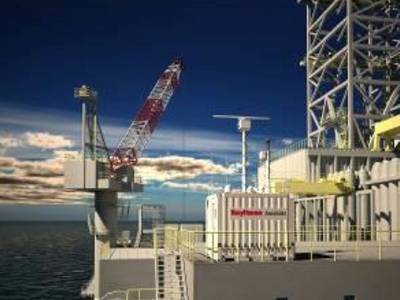 SMARTBLUE Container for offshore asset safety launched by Raytheon Anschütz, headquartered in Germany.

A containerized version of the company's SMARTBLUE surveillance system was shown in Galveston, Texas, at an on-site demonstration.

The innovative container solution is a customizable and ready-to-deploy surveillance system complete with Radar, AIS and a long-range surveillance camera on a buy or rental basis for offshore asset protection.

The SMARTBLUE Container Solution improves safety and security standards of offshore assets by providing early warning of collision, reducing risk and aiding decision makers during an incident, but also supports daily operation tasks such as logistics coordination.

Packaged into a standard offshore shipping container (DNV 2.7-1 A60 Safe Area), the solution features extendable radar and camera masts as well as fully wired network architecture. Extendable radar and CCTV masts not only reduce installation and commissioning timelines to just two hours but also make the container easier to transport. The containerized version provides a greater level of flexibility in a variety of applications in that it can be easily and quickly deployed on maritime assets such as FPSO's and platforms operating offshore in medium to high risk.

At the core of the solution, a fully equipped Command & Control (C2) operator workstation combines the marine surveillance radar, the CCTV camera, the AIS and the communication system into a single, easy to use interface giving the operator a comprehensive surveillance and security tool for maritime assets.

The C2 allows the operator to effortlessly use a variety of sensors to detect, track and identify targets entering the vicinity of a vessel, port or other maritime asset. Data-links make sharing information possible with a number of users located on other maritime assets in order to provide a greater understanding of the maritime picture and allow operations to be coordinated more effectively.

Customer care, technical assistance and through life support is provided through the Raytheon Anschütz headquarters in Kiel, through worldwide subsidiaries in Portsmouth, Rio de Janeiro, Singapore, San Diego and Shanghai, and through a qualified network of more than 200 service stations.