Vroon Offshore Embarks on 10-Vessel New-Build Program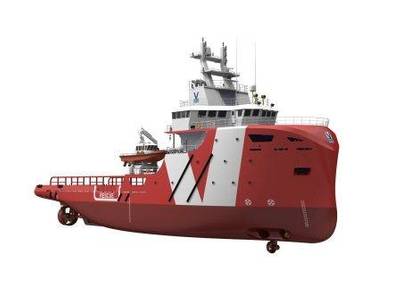 North Sea Emergency Recovery & Rescue Vessel (ERRV) operator Vroon Offshore Services (VOS) to invest $100-million in new ships.

The new "comfort class" boats - six 50m ERRVs and four 60 ERRV field support vessels - will be built in Nanjing and Fujian in China under Vroon's supervision and support a new wave-piercing bow-shape designed in Singapore by the group.

The first of the ERRVs is due to be delivered in April 2013 with the first of the 60m boats due to arrive in Q1 2014. Both have full redundancy, daughter and fast rescue craft, have been designed with two winch areas so full deck space can be used for cargo operations - especially on the 60m units, which will have 300sq.m of deck space and about 500cu.m of fuel and water tankage available.

The field support/ERRVs will also have DP1 positioning, with scope for DP2 upgrade, which MD Evert Maandag says operators will seek increasingly. "There is no DP2 demand yet on ERRV and field support but PSVs (platform supply vessels) now have DP2 and it is only a matter of time until customers expect DP2 on others" he said.