Troms Offshore Fixes Statoil Charter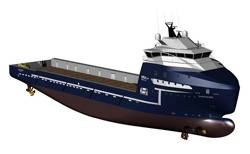 Troms Offshore Supply's newbuild Platform Supply Vessel (PSV) is contracted for long-term charter by Statoil after delivery
Troms Offshore has entered into a Letter of Intent with STX OSV who in turn have nominated STX OSV Aukra to build a PSV 07 design ship to service the charter with Statoil. The ship will be delivered from STX OSV Aukra shortly before or shortly after year end 2013.
PSV 07 is a new innovative design developed by STX OSV and is a larger version of the well proven PSV 09 design. The vessel will be a Clean Design environmentally friendly diesel-electric ship with focus on low fuel consumption and low emission of greenhouse gases.
The new PSV is to be equipped for rapid response rescue opertions, recovery of personnel and oil recovery operations.The ship is also to be prepared for winterized operations including the class notations ICE C and DEICE.
The vessel is 94,5 metres long and 21 metres wide with a free deck space of 1170 m2. With a deadweight of 5700 tons, this ship will be one of the largest PSVs in the market.
Mårten Lunde, CEO of Troms Offshore Supply states: "This is a milestone contract for Troms Offshore in developing a high quality shipping group based in Northern Norway with large, modern Clean Design platform supply vessels. It demonstrates that our consistent efforts in focusing on quality in operations, HSE and fleet composition is attractive for the largest operator in the offshore market in Norway.