Maersk, BP Agree to 5 Year Offshore Rig Training Contract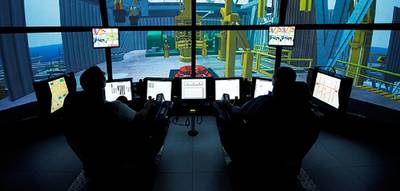 Maersk has signed a five year contract with BP to provide offshore oil rig training at the virtual reality training center the company is currently building in Houston, the companies announced today.
Maersk Training will provide BP with advanced training programs for offshore drilling teams at the new center, located in north Houston, which Maersk says will be operational by the end of 2015. BP will train employees and contractors at the facility, which offers what BP calls an "immersive simulation environment" and is based on the design of the company's Denmark offshore simulation complex, which opened in 2012 and is currently being used to train European BP staff.
"With our new center, we can offer BP a virtual reality-environment where most of the simulators are interlinked allowing training of an entire offshore operation. We can hereby simulate what happens if an emergency takes place with extensive focus on human factors, communication and decision making along with training procedural discipline in well-specific environments," said Maersk Training CEO Claus Bihl.
The Houston facility will include simulators for cyber drilling, a vessel bridge, cranes and an engine room, plus an emergency response room. In addition, Maersk Training will equip the facility for ship-handling operations to serve the maritime training market.
"These programs are a step forward in the training and development of BP's offshore personnel and of the many contractors who support our global offshore oil and gas operations," said Gary Jones, head of BP's Global Wells Organization. "We hope the entire offshore industry benefits from this important collaboration."