Offshore Wind Turbine Access System Trial Completed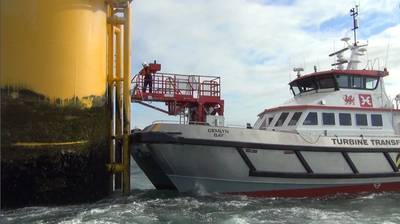 Houlder & BMT Nigel Gee announce that their jointly developed Turbine Access System (TAS) has successfully completed offshore trials.

The TAS was fitted to Turbine Transfers' 24m Cemlyn Bay for a four week trials period at RWE's Rhyl Flats offshore windfarm off the coast of Wales.

The TAS is a lightweight motion compensated gangway that provides substantially improved access to offshore wind turbines for maintenance personnel. It considerably increases the level of safety and operability, both of which are prime goals for offshore wind farm operators and developers. A key feature of the TAS is that it can be fitted to a wide range of existing Windfarm Support Vessels as it does not require the host vessel to have DP nor does the TAS platform connect to the turbine structure in any way.

The Cemlyn Bay made multiple trips to the RWE site, 8km North West of Llandudno, and despite experiencing wave heights in excess of 1.8m, the TAS gangway provided a stable transfer platform with the system performing within its safe operating limits.

Frederic Perdrix, Houlder Chief Technology Officer, commented "It's one thing seeing an animation but actually seeing it on a wind turbine in heavy seas was most impressive".

Hazel Phillips, General Manager at Turbine Transfers commented: "We have been very impressed by the performance of the TAS and believe that this provides a step change in transfer safety and operability".

Further assessment of the TAS is now planned as RWE, supported by the Carbon Trust, has shown interest in undertaking further trials.