Oil Recovery Ops off the Irish Coast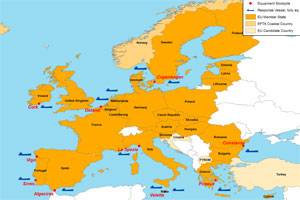 In the afternoon on Tuesday 17th February, the Irish authorities decided to request assistance from the European Maritime Safety Agency (EMSA) to combat an oil spill initially detected by EMSA's CleanSeaNet service 50 miles southeast of Fastnet Rock off the West Cork coast. As a result, the EMSA contracted vessel Galway Fisher has been mobilized and will be in Cork on standby. The alert was provided by the CleanSeaNet European oil spill detection service of EMSA on Saturday 14th February. The image, on the basis of which the Irish authorities learned about this spill, is one of the routine images acquired by CleanSeaNet for EU Member States.

On 14th February, the oil spill was detected approximately 50 miles southeast of Fastnet Rock off the West Cork coast of Ireland. It has been reported that there were Russian vessels in the area. The spill is estimated to be 400-500 tonnes of oil. The spill was originally spread over an area encompassing four miles by five miles.

The Agency will continue utilising its CleanSeaNet European satellite oil slick detection service to monitor the pollution in the affected area. Emergency satellite images have been ordered to provide additional information on the behaviour of the spill at sea.

At present, EMSA has 11 stand-by vessels located at different places around the EU coastline, and these are ready to assist any EU Member State which requests their services.