Oldendorff Taps Verifavia for EU MRV Compliance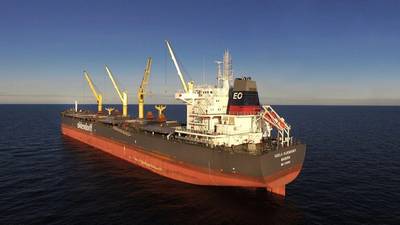 Dry bulk vessel owner and operator Oldendorff Carriers said it has appointed emissions verification company Verifavia to verify its fleet of vessels in line with the
European Union
's new environmental Monitoring, Reporting and Verification (EU MRV) regulation.
Verifavia will
ensure that all Oldendorff vessels are in compliance with the new requirements mandated by the EU MRV regulation coming into force in August 2017.
As a first step towardscutting greenhouse gas emissions from maritime transport, the EU requires operators of ships exceeding 5,000 GT to monitor and report their carbon emissions on all voyages to, from and between EU ports. Ship owners and operators operating in the EU must prepare and submit their ship-specific monitoring plans (MP), detailing the procedures, systems, and responsibilities in place to monitor fuel consumption, carbon emissions, and other relevant data.
Oldendorff Carriers owns and operates a fleet of ships designed to be fuel efficient and environmentally friendly. Its Green Ship Program aims to ensure the company's impact of operations on the environment is reduced as much as possible and always meets or exceeds environmental regulations.
Chris Fee,
Oldendorff Carriers Green
Ship Manager, said, "Transporting cargo by sea is undoubtedly the most environmentally-friendly and energy-efficient method of moving goods and commodities from A-to-B, resulting in the CO2 emissions per ton-nautical mile calculating significantly lower than transporting the equivalent cargo quantities by alternative transport modes, such as by truck, rail or airfreight. Nevertheless we are determined to monitor and reduce our emissions as much as possible."