London Olympics – UK Warship Takes Station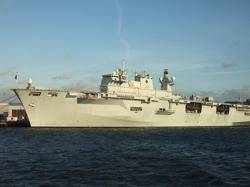 The Royal Navy's Assault Landing Ship, HMS Ocean, sails up the River Thames in preparation for forthcoming Olymics
HMS Ocean will berth at Greenwich in east London where she will act as a launch pad for eight Lynx helicopters and a base for Royal Marine snipers in the the final phase of the exercise 'Olympic Guardian', which began earlier this week in Weymouth and in the airspace over the capital.
During the Games the ship will also accommodate 300 military personnel who are providing security at nearby Greenwich Park, and engage with Londoners by hosting public visits.
Last year HMS Ocean spent four months operating off the Libyan coast.