Braemar Launches New Salvage Support Operation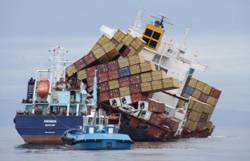 Incident response and environmental clean-up specialist Braemar Howells and its sister company Braemar (Incorporating The Salvage Association) are to work together to provide a 24-hour global response capability to the world's shipping and marine insurance sectors.

In what is being seen as a key development in the expansion of Braemar's Technical Services (BTS) division, both companies have formed Braemar Marine Salvage Support Services which will provide on-site distressed cargo management and salvage support services to salvors, owners and insurers, together with additional expert technical advisory services from within BTS ranging from resolving LNG operational problems to offshore engineering solutions.

These services will include the subsea searching for, recovering and processing of lost and sunken cargo; the coordination and decontamination of cargo, the disposal of hazardous materials; the provision of SCRs; the supply of expert naval architectural services for vessel damage assessment, re-floating and wreck removal analysis; as well as pollution response, prevention and tank discharging and cleaning prior to salvage.

Braemar Howells is a leading provider of incident response, oil and chemical pollution clean-up and the provision of MARPOL waste reception services. Braemar (Incorporating The Salvage Association) is a leading international marine surveying and marine technical consultancy business providing expert advice to the global marine insurance, legal, shipping and offshore industries.

It has been a busy year for Braemar Technical Services with all five member businesses of the Braemar parent company's global marine and offshore services division undergoing a successful amalgamation and unit rebranding.

Braemar Shipping Services plc formally announced last October that it would boost its penetration of the global marine consultancy and offshore technical services sectors by bringing together its technical business units under the umbrella control of the BTS division. Since then, the various business units have been rebranded. With effect from the end of January this year, Braemar Falconer changed its name to Braemar Technical Services (Offshore), (colloquially known as Braemar Offshore); while Braemar Wavespec changed its name to Braemar Technical Services (Engineering) or Braemar Engineering for short; and Braemar Steege changed its name to Braemar Technical Services (Adjusting) or Braemar Adjusting. Braemar (Incorporating The Salvage Association) and Braemar Casbarian, which also sit within the BTS division, will maintain their identities as before.