SAFE Boats Delivers Cutter Boat for USCG Arctic Operations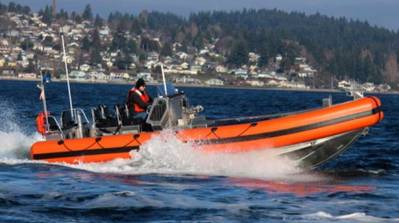 Bremerton, WA., aluminium boat builder SAFE Boats International (SBI) informs that it has delivered the cutter boat 'Over the Horizon IV' (CB-OTH-IV) POLAR to the 420-foot Ice Breaker, USCG Cutter Healy.
The CB-OTH-IV POLAR has a modified outfit package different from the standard 26-foot CB-OTH-IV parent craft which SBI has been delivering to the U.S. Coast Guard since 2013 as part of a multi-year, 104 boat contract. Although modified, the vessel maintains the ability to interface with the National Security Fast Response Cutters.

This boat's key features allow it to operate in harsh conditions and include a reinforced hull, SBI's patented collar system, 480hp inboard diesel engine with a water jet, tactical communications equipment and unique lifting accommodations for launch and recovery.

SAFE Boats inform that the delivery comes as a response to the USCG's expressed national interest in maintaining a polar presence due to an increase in commerce and traffic in the Arctic and Antarctic. The CB-OTH-IV POLAR will support cutter missions in open water and operates as a critical support craft with a mission scope of law enforcement, security, search and rescue, and environmental protection of natural resources.

"We are very pleased to continue our long history of partnership with the U.S. Coast Guard in providing them a new platform that will allow the women and men serving on forward deployed ice breakers to better accomplish their mission," said Dennis Morris, CEO of SAFE Boats International.