Operations Begin at New Fujairah Port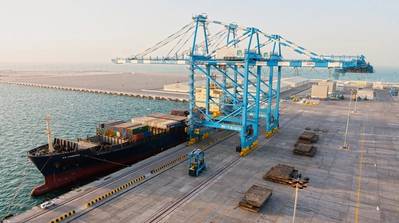 Abu Dhabi celebrated the official commencement of operations of Fujairah Terminals in the East coast of the United Arab Emirates.
The announcement came following an official event held at Novotel Fujairah, attended by Sheikh Saleh bin Mohammed Al Sharqi, Chairman of the Board of Port of Fujairah, Captain Mohamed Juma Al Shamisi, CEO of Abu Dhabi Ports, along with a delegation of Senior Managers, Key Stakeholders and Customers.
Earlier this year, Abu Dhabi Ports signed a 35-year concession agreement with the Port of Fujairah, under which "Fujairah Terminals", a new operational arm wholly owned by Abu Dhabi Ports, was established with over AED 1 billion ear-marked for investment in in equipment, and infra and super structure.
Commenting on this major milestone occasion, Captain
Al Shamisi said
: "As we mark the official commencement of commercial operations, we express our pride, clear commitment and intention to bring the full breadth of our experience to the table; whether it is container, RORO, bulk, cargo or cruise, supporting expansion into the Indian sub-continent and East African markets, which is set to accelerate the economic and social development of the emirate, eventually becoming a strategic and vital artery for international trade."
"The strong partnership has set in stone, strategic and robust plans, in line with our wise leadership's vision to create a sustainable and diversified economy for future generations to benefit from, that promise a bright future for Fujairah, its community and businesses." He added.
AbdulKareem Al Masabi, Executive Vice President-Ports at
Abu Dhabi Ports said
: "We are here because our ambition is to replicate the same growth we have experienced and driven at Khalifa and Zayed Ports to Fujairah Terminals. The Port is already one of the most important economic and commercial ports operating in the UAE and we are confident we are soon to witness a significant growth in the Port of Fujairah, in addition to a boost to vital industry sectors such as steel".
Captain Mousa Murad, General Manager of Port of Fujairah, said: "The opening of Fujairah Terminals today, is the culmination of the concession agreement, which included the development of the ports infrastructure, in addition to the establishment of a new container terminal at Fujairah Port with deep berths, allowing larger vessels to enter the port. The Port will also be equipped with new and advanced equipment as well as the latest IT systems in line with the highest standards of precision, safety and speed".
Since the concession agreement, Fujairah Terminals has witnessed several successes already. On the side-lines of the event that signalled the start of operations, it was announced that Perma Pipe Middle East, a renowned manufacturer of pre-insulated piping and leak detection systems for district heating and cooling, signed an MOU with Fujairah Terminals with the aim of receiving all the necessary logistics support from the terminal facility to streamline their business.