New Survey Vessel Ordered for the Port of London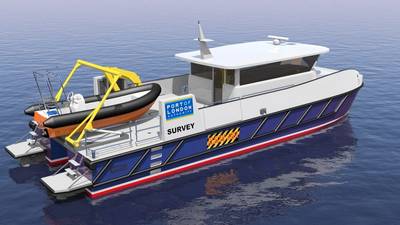 The Port of London Authority (PLA) has ordered a new purpose-built survey catamaran, a CTruk MPC19, due to enter service on the river Thames later this year.
The vessel is will replace the PLA's Yantlet vessel as she reaches the end of her service life, continuing the PLA Hydrography team's survey work which facilitates safe navigation on the tidal Thames. As the U.K.'s busiest inland waterway, the river is a link for trade, travel and leisure and as home to the U.K.'s second largest port.
The CTruk MPC19 is a hydro-dynamically optimized twin-hull design that boosts smooth passage through the water. It also has a low draught for shallow water access and a low air draught so it can get under Thames bridges with ease. According to the builder, the boat can accommodate up to 12 people (two crew and 10 passengers) and is loaded with features including water-jet propulsion (for a high level of control and low draught), multi-beam sonar platform, a four-meter survey-capable Rigid Inflatable Boat (RIB), cruise speed of 18 knots, survey speed from two knots, fuel efficient to save operating costs, top-of-the-range echo sounding systems and ancillary survey equipment, deck that can take loads of up to one metric ton per square meter, and equipment including a Palfinger foldable knuckle crane.
This type of boat is popular with offshore wind farm support work. Essex-based supplier CTruk will build the FRP composite vessel using a vacuum resin-infusion technique, giving a smooth hull shape and lean body frame that will allow for a more efficient passage along the Thames.
Capt. John Pinder, port hydrographer, said, "This boat should be an excellent addition to our fleet. It offers more space to our busy crew and its fuel efficiency is a bonus that will help us keep costs down. We very much look forward to taking delivery of the craft and naming her."
CTruk has built 18 of these multipurpose cats to date, with the design racking up thousands of service hours on 24/7 operations in the U.K. and Europe, CTruk noted.