OSK-ShipTech Designs Luxury RoPax Ferry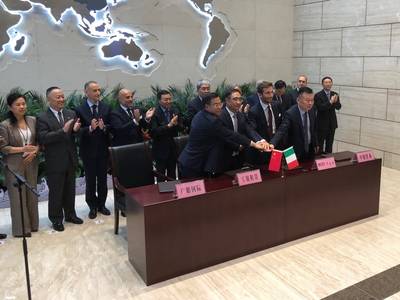 Onorato Armatori has signed a historical contract with Guangzhou Shipyard International (GSI) for the order of two plus two luxurious RoPax ferries.
Danish naval architects OSK-ShipTech have again contributed to a significant Chinese newbuilding project with the design for the luxury ferries constituting the world's largest ferry order to this day. The contract was just signed at a ceremony in Beijing. Onorato Armatori is behind the RoPax ferries to be built at Chinese shipyard Guangzhou Shipyard International.
The RoPax-ferries will each have a capacity of approx. 3800 lane meters and room for 2,500 passengers in total. The accommodation will have a modern, clean look and will be designed based on passenger needs and spaciousness. Technologically, the ferries will be LNG-ready and fitted with the latest technologies for energy optimization.
The contract includes an option for two additional ferries of the same type. In any case, this a record ferry order – and a quantum leap for the joint cooperation between GSI and OSK.
The first ferry is scheduled for delivery in 2022.