Petra Joins Owner's Galaxy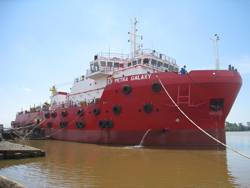 The Petra Galaxy, designed by Conan Wu and Asscoiates, is the latest vessel to join the fleet of Perdana Venus Ltd. of the Marshall Islands. The 75-by-20m maintenance/work vessel has approximately 700 sq. m. of open deck space with an intended capacity of five tons per sq. m. for a total deadweight of 3475.56 tons, of which 400 tons could be deck cargo with the vessel drawing 5.2 meters of draft.
Classed by ABS as a + A1 +AMS Offshore Vessel, the Petra Galaxy includes air-conditioned accommodation for up 189 people as well as a hospital, conference room, recreation room and five offices. On deck, a Favelle Favco model 6/10 lattice boom offshore marine crane provides maintenance support. A four point anchoring system is fitted. Petra Galaxy employs four single drum winches with auto-spooling and 40-ton first layer pulling power to handle the four 5000 kg Delta flipper anchors each connected by 1,200 m of 38 mm wire rope. The vessel also features 16 400-watt deck floodlights and an extensive suite of wheelhouse electronics by Furuno, Tokimec, Navtex, Anschuetz, walker and Soura.
Below deck, a pair of Cummins KTA50M2 main propulsion engines delivers 1,800 HP into Reintjes WAF664 gears with 5.044:1 ratios to turn 2.1-m fixed-pitch propellers. Forward VTA28DM engine powers the bow thruster. Main generators are three Cummins KTA19-powered 360 kW sets. A Cummins 6CTA8.3DM-powered 150 kW genset provides emergency services while a Cummins 6BT5.9 engine powers a fi-fi pump.
Capacities include 57 cu m of fuel oil, 1057 cu m of fresh water supported by two reverse osmosis water makers each producing 35 tons per day. The Petra Galaxy will have a 28-day endurance with a 5,000 nautical mile range.