Pacific Basin Hopeful on Dry Bulkers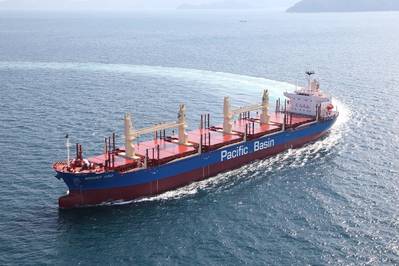 The dry bulk freight market is expected to benefit in the second half of 2019 and early 2020 from many larger ships being taken out of service for several weeks for scrubber installation, said Hong Kong-based Pacific Basin Shipping Limited.

The maritime transport company engaged in international dry bulk shipping through the operation of a fleet of vessels to carry diverse cargoes for many of the world's leading commodity groups said: "We believe the market for smaller dry bulk ships like ours will benefit also over the longer term, as they will consume more expensive low-sulphur fuel and therefore be incentivized to operate at slower speeds which reduces supply."

Clarksons Research estimates combined Handysize and Supramax net fleet growth of around 2.3% for 2019 and 1.3% for 2020 despite limited scrapping, while minor bulk tonne-mile demand is expected to grow more than 4% in 2019 and 2020.

"We expect to see seasonally stronger freight market conditions in the second half of 2019, although with continued volatility influenced by further uncertainty about the US-China trade war, slower economic growth than in recent years and the impact of African Swine Fever on soybean imports to China," the owner of 115 dry bulk ships said.

Key catalysts for improvement on the demand side are expected to include the onset of the Black Sea grain export season and a return to normal levels of grain traffic out of the Mississippi River and iron ore exports from Brazil. Market rates have been firming, especially in the Atlantic.

"Uncertainty over new environmental regulations and the gap between newbuilding and secondhand prices continue to discourage new ship ordering, and the small Handysize orderbook continues to be a positive factor for the health of our segments in the medium term," it added.