Paralympics Security Role for British Warship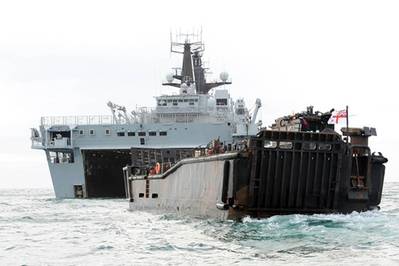 The crew of 'HMS Bulwark' serves as hub in Portland Harbour for the security effort surrounding the Paralympic sailing events.

The assault ship serves as the command and control centre for maritime security operations around Portland for the duration of the Paralympic Games.

From her operations room, Bulwark directs the movements of Royal Marines raiding craft, patrol boats and civilian launches and boats, fed by live imagery of the waters around Weymouth by special cameras fitted to Fleet Air Arm Merlin helicopters on patrol overhead.

The flagship has relieved Royal Fleet Auxiliary vessel Mounts Bay which has spent the past month providing office administrative support and accommodation facilities for small boat crews, docking and maintenance facilities for raiding craft, planning rooms for Navy logistics staff, and offices and briefing rooms for police and 43 Commando Fleet Protection Group Royal Marine.

In addition to Bulwark in Portland, HMS Ocean, remains on the Thames supporting Paralympic events in the capital, serving as a helicopter launch pad and floating accommodation for some of the military personnel assigned to Operation OLYMPICS.

There are also P2000 patrol boats safeguarding the River Thames Estuary.