Sea Asia 2011 Ends - Record breaking 12,167 Participants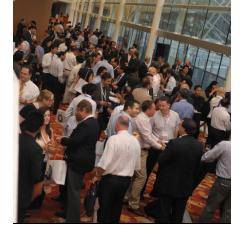 Organisers say show has 'reached the next level'; Dates for 2013 Show Announced

Sea Asia 2011 ended on a high note this evening with a clutch of records broken at what is now confirmed as Asia's leading maritime conference and exhibition.

As Sea Asia closed at Marina Bay Sands Expo and Convention Centre in Singapore, it was revealed by the organisers that 12,167 people attended the three-day event this week. Over 90% of visitors surveyed agreed that Sea Asia 2011 is a leading and prestigious industry event.

The number, comprising visitors, exhibitors, conference delegates, speakers and media, was announced as the dates for the next Sea Asia were confirmed. The next Sea Asia will take place on 9 - 11 April in Singapore in 2013, co-organisers Seatrade and the Singapore Maritime Foundation (SMF) said.

SMF chairman, Mr Michael Chia said: "Sea Asia 2011 has been a great success. The show has managed to draw a total of 12,167 unique participants, exceeding the previous attendance figure of 10,186 participants in the Sea Asia 2009 show."

The Sea Asia conference sessions also saw an increase in the number of participants this year.

The enthusiasm for Sea Asia 2011 demonstrates the need for a clearer and stronger voice for the Asian shipping community is now even higher on the international agenda.

The level of international participation in Sea Asia from exhibitors and visitors is a reflection that this show is on the right track to become one of the must-attend maritime events in the global maritime calendar.

Chris Hayman, Chairman of Seatrade, said: "These numbers cement Sea Asia's status as a leading event in the global maritime calendar. The Asian Voice theme is clearly one that will remain a cornerstone idea for the show in future and I am convinced the show has now reached the next level in terms of its vibrancy and maturity."

"To achieve the figures we have seen across these past three days shows the resilience and optimism of the Asian maritime community. They augur extremely well for our next event in 2013."

Sea Asia has grown dramatically since its inauguration in 2007. The 2009 show showed significant growth on the launch show figures. But this year's event has outstripped all previous shows.

Sea Asia 2011 occupied 13,600 sq m of gross space at Marina Bay Sands Expo and Convention Centre. It had more than 6,200 sq m of net used space in an exhibition booked by 340 maritime and shipping businesses from 40 countries. Country pavilions included China, Japan, Norway, Panama, Singapore, Turkey and the UK.

Sea Asia was the crown jewel of Singapore's Maritime Week and show visitors were able to take part in a host of other side events and activities which truly reflected the strength and depth of Singapore's emergence as an international maritime centre.
Source: Sea Asia