Drydocks World and Maritime World participation in NAVDEX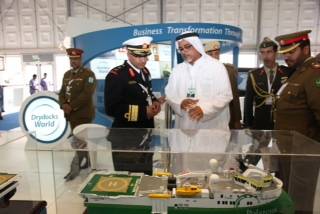 Drydocks World and Maritime World, the leading maritime service providers in the region, recorded outstanding success on its debut participation at NAVDEX.
HH Lieutenant General Sheikh Mohammed bin Zayed bin Sultan Al Nahyan, Crown Prince of Abu Dhabi and Deputy Supreme Commander of the UAE Armed Forces visited Drydocks World stand met key personnel. The stand attracted a lot of attention from key military personnel from all over the world, who evinced keen interest in the wide portfolio of services offered by the yard.


"It is of paramount importance to provide secure dry/wet berths to warships due to their special status. We have an impeccable record of ISPS compliance and strict zonal control to provide a secure environment for navy vessels. In order to keep the man of war in fine fettle and battle worthy, non compromising stringent standards are adhered to, throughout the repairs and commissioning. This requires meticulous planning, sharp supervision and strict quality control at all stages. All in all, we have the expertise, infrastructure, experience and above all strong will to partner with global navies in maintaining their vessels fighting fit," said Khamis Juma Buamim, Chairman of Drydocks World, while speaking at the IDEX Conference.


Drydocks World is renowned for its state-of-the-art facilities and expertise for repairing and building all types/classes and sizes of vessels including warships. The shipyard and its newly commissioned Ship lift facility have docked or repaired an impressive number of warships belonging to various navies of the world including the UAE, USA, Royal Navy, French, Danish, German, Norwegian and other navies around the world.