PB Asher Partners with Burgess Marine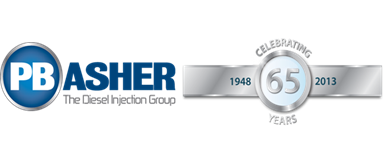 The World's Longest established Fuel Injection equipment specialist's 'PB Asher' joins forces with 'Burgess Marine' The UK's largest independent Ship Repair Company to offer a complete solution for marine engine overhaul, repair & replacement.

Ben Cross – MD at PB Asher says "We couldn't be happier joining forces with Burgess Marine; It's a logical move and will enable both companies to offer an improved service solution to existing and prospective customers. Burgess Marine has similar ambitions to our growing company and this strategic partnership makes complete sense, our customers are looking out for cost effective service options and this is certainly one of them."

An introduction to Burgess Marine
Burgess Marine is at the forefront of the specialised marine engineering industry, having earned a worldwide reputation as experts in all aspects of structural repairs and renewals as well as mechanical repairs both above and below the waterline.

The firm provides comprehensive marine repair services, from welding, electrical, engine overhauls, structural fabrication and mechanical to dive support, dock evaluation reports, vessel surveys and warehousing. Its repair service is complemented by steel fabrication, pipe and mechanical facilities, dry and wet docks and ship lifts. The company specialises in unique bespoke marine engineering projects to include the World's largest fast ferry conversion.

With premises in Dover, Portsmouth, Southampton and Poole, the business is ideally located not only to support the UK's largest passenger ports, but also shipping in general throughout the busy English Channel. Burgess has recently acquired Testbank Ship Repair, with locations at Southampton docks, Portsmouth and Bristol. This has created the largest independent ship repairer in the UK by both geographical location and the fact that they are not tied to any one particular yard or facility.

From its head office in Dover, Burgess Marine also provides highly skilled teams capable of carrying out planned refits and emergency works worldwide, having worked extensively throughout Europe and the Mediterranean, the Middle East, the Far East, North America, South America and the Caribbean.

The combined marine engineering experience of the directors and technical management within Burgess Marine exceeds some 200 years; it is this level of experience together with complete commitment that gives customers total peace of mind. Burgess Marine is an ISO 9001:2008 British Standards Institute accredited company and holds 'DNV Approved Supplier' status; the company is also a full member of the Association of Diving Contractors.

Their Portfolio of clients include the likes of A&P Falmouth, ferry operators Brittany, Condor, P&O, Red Funnel and Wightlink, BAE Systems, cruise liners group Carnival, UK support services company Serco, Eurotunnel, Rolls Royce, Andrew Weir Shipping and the RNLI. Burgess Marine also works with operators of fixed and mobile platforms, such as oil rigs and wind farms, along with owners and operators of super yachts and high-speed craft.

The benefits of this strategic partnership
Both companies remain specialists in their field until they are required to come together on dry docks, major overhauls or servicing the offshore industry.

One call does it all, saving you money on man hours, collection and delivery costs.

The partnership allows for an improved logistical offering to key customers, we can pick up and deliver to any port or destination across the UK, including frequent runs to Grangemouth, Teesport, Immingham, Felixstowe, Tilbury, Thamesport, Dover, Southampton, Portsmouth, Bristol & Liverpool. We also have key partners in Aberdeen providing hassle free collection and delivery throughout northern Scotland.

We offer a 24 hour 365 days a year combined rapid response team.

For the offshore industry we offer a 'One stop supply chain proposal and exchange service' to avoid down time and offer all the tickets, insurances and vessels to do the whole job under one roof. All we require is IMO numbers, a time, location, date, and you can consider the job done.

Customers shall receive exceptional behind the scenes cross over communication between the two companies to make sure you receive full technical reports and information on your equipment. A dedicated technical account manager will be assigned to all projects.