Partners Developing Solution for CTV Electrification Refits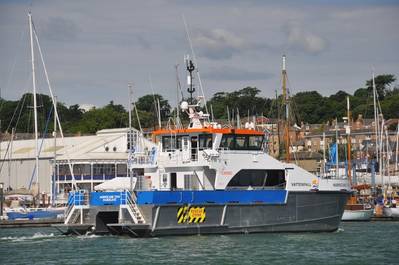 Shift Clean Energy (Shift), Ecomar Propulsion and Aluminium Marine Consultants have signed a memorandum of understanding (MoU) to collaborate and develop a retrofit package to electrify and transform existing crew transfer vessels (CTVs) and workboats into environmentally friendly marine vessels.
With the use of Shift's energy storage systems (ESS), Aluminium Marine Consultants' shipyard capabilities and Ecomar Propulsion's propulsion systems, the partnership aims to introduce "plug and play" solutions that will lower emissions, reduce costs and increase overall efficiency.
The pre-engineered solutions include the complete retrofitting and modernization of the CTVs and workboats, with the objective of creating low and zero-emission operations with high performance energy storage systems to hybridize and fully electrify the vessels. Additionally, complete interior overhauls will be carried out using KPM Marine sustainable seats and furniture to elevate the sustainable profile of the vessels.
Aluminium Marine Consultants, responsible for building approximately one-third of the CTV fleets in the U.K., will lead the retrofit and refurbishment process.
Rob Stewart, commercial director of Aluminium Marine Consultants, said, "Our goal is for 100% zero carbon wind farm operations whilst being realistic that existing vessel should not be scrapped but adapted until such time as we can replace the fleets with new vessels. By repowering and reusing existing CTVs, we seek to lower the carbon footprint of the maritime industry and pave the way for a more sustainable future."