Globe Tracker, Xmetra Announce Partnership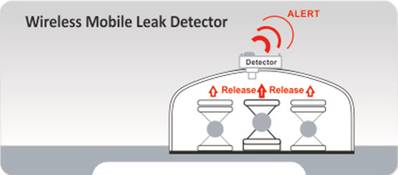 Globe Tracker International (GTI), a company in global trade data sharing, autonomous asset tracking and monitoring and related data analytics, announced its partnership with Xmetra OU, a supplier of solutions for remote detection and tracking of leakages of Hazardous Materials during transportation and storage.

The companies will deliver integrated, real time wireless detection, tracking, alarm condition reporting and remote management of intermodal containers (tankers) used for high risk materials globally.

Xmetra's Mobile Wireless Leak Detector continuously monitors the NARs (Non Accident Releases) of Hazardous Materials inside the valves area covered by a dome lid on the top of the tank container (ISO, swap or offshore), railroad tank car or road tanker. The Leak Detector sends alerts if the concentration exceeds a threshold value. The device uses GPS/GLONASS positioning technology to determinate coordinates and date / time stamp related to the event of a leak.

Xmetra's capabilities will be integrated into GTI's Smart Autonomous Asset Solution, in particular the GTI Networks, to allow monitoring of safety conditions continuously and integrate that information into the rest of the GTI tracking and monitoring data to provide a holistic view of the status of critical cargo. This capability will bring greater end-to-end visibility and responsiveness to alert situations in extended transit.

With its Smart Autonomous Asset Solution, GTI is changing the way the supply chain thinks about asset tracking, management, and monitoring on land and sea. Its solution is a suite of asset visibility devices and networks and is now commercially available. The suite includes GTI's Trade Data Exchange Network (TDEN), Smart Autonomous Asset Network (SAAN), and Globe Tracker Communications Unit.