Green Passenger Ferries from Faaborg Vaerft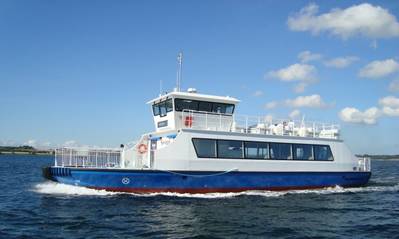 The first full-electrical passenger ferry in composite is delivered to Ballerina AB in Stockholm, Sweden.

Faaborg Vaerft A/S has delivered the first full-electrical passenger vessel, Sjövägen, built in composite materials to the shipping company Ballerina AB in Stockholm, Sweden. The vessel will operate in the archipelago of Stockholm where it will transport passengers between the different stops silently and environmentally with its correct propulsion.

The vessel has sailed from Faaborg to Stockholm on its own keel and by its own power where it will start to operate shortly after arrival.

Faaborg Vaerft A/S has together with Principia North A/S, Wilhelmsen Technical Solution and Saft developed, designed and produced this modern vessel. The new electrical ferry is a result of an exceptional and innovative cooperation between the owner and the mentioned companies.

Faaborg Vaerft's large experience with building and delivery of composite vessels and cooperation with professional business partners have ensured that Ballerina AB has received a high quality product customized for the owners demands and wishes.

Sjövägen is designed and approved for 150 pax. The vessel is ice reinforced, equipped with double propeller system, 2 x 160 kW electrical engines for propulsion, 500 kWh battery bank, electro hydraulic steering system, electrical bow thruster and communication and navigation equipment.

Sjövägen is designed so that the passengers board the ship from the bow and from here access to the passenger area is through two automatic glass sliding doors. Access to the ship and the passenger area is especially designed for wheelchairs etc. The passenger area contains comfortable seats and tables where the passengers can enjoy the goods which can be purchased from the service area. The vessel is furthermore equipped with a specially arranged handicap toilet. The access to the stern is by two automatic swing doors. From the stern is an ergonomic staircase with specially made children banisters for the little passengers which give access to Sjövägen's large and well-appointed sun deck. The sun deck is equipped with benches where the passengers can enjoy the trip sailing through the archipelago of Stockholm.

The vessel is designed for two-men operation which will mainly be from the high placed wheelhouse which has a great view and is arranged occupational correct so the captain has the best working conditions.

Main dimensions:
LOA Hull: 24,55 meters
Beam: 7,00 meters
Depth: 1,80 meters
Draft u. keel: 0,65 meters
Speed: 8-10 knots
Passengers: 150 pax.

Configurations:
Full-electrical propulsion
Hybrid propulsion
Diesel propulsion

Contractors:
Shipyard: Faaborg Vaerft A/S, Denmark.
Design and construction: Principia North A/S & Valling Ship Survey ApS, Denmark.
Propulsion and steering: Wilhelmsen Technical Solution, Sweden
Battery System:Saft, France.

Wilhelmsen Technical Solutions have under the brand name Callenberg delivered the ship's Electrical Main/Propulsion Engines, Propulsion Drives, Main Switchboards 400Vac and 650Vdc, Battery Chargers and Inverters, Main Automation System, Shore Connection, Propulsion Control, Total System Integration for Power Distribution and Propulsion, Detailed Engineering and Software Development, and Commissioning on site

Saft delivered Sjövägen's Li-Ion cells with the Saft patented electrochemistry technology Saft Super Phosphat; Battery modules, totally 500 kWh at 650V; Battery management modules with CANBus communication to the main automation system; and Sheet metal cabinets where battery modules are installed.

The ferry concept delivers in multiple configurations which can be customized for the given demands such as arrangement, number of passengers and propulsion systems etc.