Passenger Ship Grounded off Scotland Coast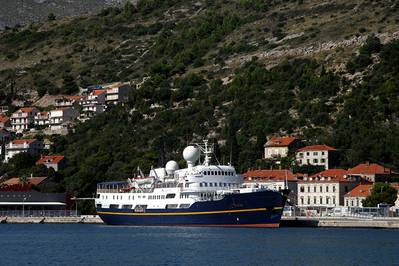 The passenger ship 'Serenissima' grounded Monday night in Oban Bay, was refloated the next day & awaits underwater inspection.
The UK Maritime and Coastguard Agency reported that the Stornoway Coastguard was alerted and was told that the ship had ran aground on sand and gravel. On board for the voyage from Ireland towards Oban were 61 passengers and 51 crew.
There were no reported injuries, no reported pollution and no signs of water ingress.

The RNLI lifeboat from Oban was on standby to assist if needed. The Oban Sector Manager and the Oban Coastguard Rescue Team were also on scene.

The Serenissima was successfully re-floated at high tide 1.10 am Tuesday, 21, May and is now anchored in Oban Bay, where it will undergo a dive inspection.