Freak Wave Kills Cruise Ship Passenger, Injures Others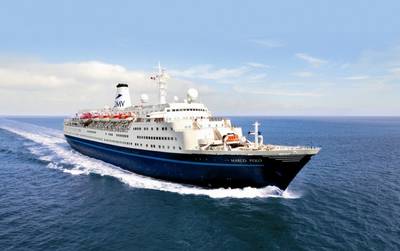 A cruise ship passenger has died and another was airlifted to hospital after the 22,000-tonne cruise ship 'Marco Polo' was hit by a freak wave in the English Channel during the recent storm.

The cruise ship operators, Cruise & Maritime Voyages (CMV) confirm that after a freak wave hit their cruise ship m/s Marco Polo in the English Channel during heavy weather, the ship is now in home port, London Tilbury.

They add that they regret to advise that one elderly passenger has died and a second unrelated passenger was airlifted for further shore-side medical assistance where we understand her condition is not life threatening. 14 passengers have sustained minor injuries and were treated in the ship's medical centre.

In the company's latest news update they state that following the storm damage sustained to a small section of Marco Polo's Waldorf Restaurant and the subsequent completion of the required reparation works, the vessel has been cleared to sail by the authorities. The ship will sail on her next scheduled cruise to Norway on schedule.
Christian Verhounig, Chief Executive of Cruise & Maritime Voyages commented, "Our thoughts and prayers go out to the passengers and their families affected during this difficult time."

"We have been touched by the overwhelming level of support received from passengers who experienced the freak wave incident and the fulsome praise extended to the Captain, his officers and hard working crew and also by many of our customers who cruise with us regularly onboard the much loved Marco Polo".