Kiel Gets Second Cruise Passenger Terminal at Ostseekai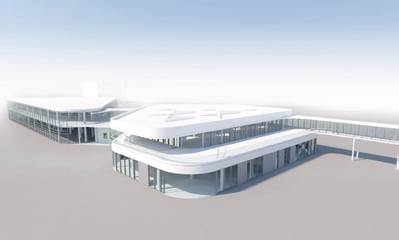 A second handling centre for cruise ship passengers and their luggage is being built at Kiel's Ostseekai Cruise Shipping Terminal.
Artist's impressions of how the new building will look when complete have been made public for the first time at the ITB Berlin – the world's leading trade fair for the travel industry.
Dr
Dirk Claus
, Managing Director of the
Port of Kiel said
: "Sea tourism is a strong growth market sector for the port of Kiel. With a second terminal building we will be in a position to expand our capacities and increase handling quality."
In particular, the second terminal makes it possible to balance out individual operational processes. Whereas previously two ships were handled by just one terminal at the
Ostseekai Terminal
, in future every ship will have its own handling terminal.
According to Dirk Claus: "We are taking a great leap forward against a background of ever more visits by cruise ships and increases in the sizes of those ships. A terminal for every ship berth means the best possible service for shipping companies and passengers."
Construction work is expected to begin in August this year. Completion and operation will follow next spring at the start of the 2019 cruise shipping season. The Port of Kiel is investing about € 7.5 million in the expansion of the cruise shipping terminal.
Planned is a 3,700 m² two-storey terminal building designed by eins:eins architects Hillenkamp & Roselius within the framework of a co-operative workshop process.
"The multi-phase workshop process format was seen as particularly suitable for this task because of the specific functional demands" said the Head of the Municipal Planning and Building Control Office Doris Grondke.
"I am delighted that joint discussions with the port resulted in the realisation of such an eye-catching concept for this important site on the fiord", she added.
The new structure will be built as an integrated northern extension of the existing terminal building with connections on both levels. The new building's frontage picks up on existing surroundings and impresses with the transparency afforded by large glass surfaces.
Structurally, the two buildings create a V-shaped reception area for arriving visitors. From here travellers can enter the terminal itself while visitors are led up an outside flight of stairs to a generously-sized viewing terrace.