Port of Kiel Cruise Passenger Pavilion Takes Shape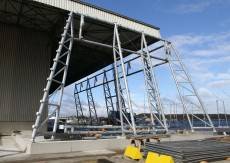 It's full steam ahead for Kiel's Ostuferhafen construction work.


Kiel's new cruise ship passenger handling pavilion at Berth No. 1 in the Ostuferhafen is rapidly taking shape. The steel support framework is almost complete and the next step will be cladding the 1.670 m² structure with a transparent plastic covering. Dr Dirk Claus, the Managing Director of the Port of Kiel (SEEHAFEN KIEL GmbH & Co. KG) said "the work is right on target and will be finished at the end of May. The new pavilion means we will be able to handle passenger exchange and cruise turnaround on three big ships at the same time - instead of only two cruise ships as has been the case previously", he added. The new pavilion is being inaugurated on June 2nd, when the 'Costa Pacifica' leaves Kiel at the start of a ten-day Baltic cruise.


The new passenger pavilion is more than 110 m long, 14 m wide and a good 10 m high. The passenger check-in and waiting area covers 1,560 m². Directly dovetailed into it is a further hall space of about 3.000 m² with luggage and control areas. "A very efficient facility is being created at Berth No. 1", said Dirk Claus "and as far as its processing quality is concerned it will be in no way inferior to that at the Ostseekai Cruise Shipping Terminal. Very big ships carrying 4.000 and more passengers can now be processed smoothly in the Ostuferhafen." The project to upgrade the Ostuferhafen for the cruise shipping sector has been divided into two phases. Last year, new fendering was installed along the 400 m long berth and a constant water depth of 10 m was created alongside. The new passenger pavilion now rounds off Kiel's expanded cruise turnaround capability. Dirk Claus said "we are investing a good four million Euros in sea tourism in the Ostuferhafen. It covers the ship berth, passenger and luggage areas and site logistics including port security."


This year 22 different cruise ships will make a total 125 calls in Kiel and most of the calls will be to change passengers and begin a new cruise. "The demand for sea travel is greater now in Germany than ever before", said Dirk Claus. "We benefit from this development and we are ideally located both as an arrival and departure port for Nordic and Baltic cruises. With the new Berth no. 1 we are now creating the capacity to handle 150 cruise ship calls every season in future." Along with the Ostuferhafen berth, Kiel already also has two berths for big cruise ships at the Ostseekai Cruise Shipping Terminal while smaller ships of up to 200 m in length can call at the Norwegenkai.