U.S. Shipyard, Silver Ships, Delivers Passenger Vessel to Nigeria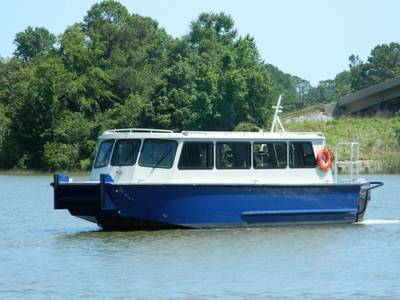 Alabama shipbuilders, Silver Ships, deliver a 30-foot passenger vessel to the U.S. Consulate in Lagos, Nigeria
The newbuild will join a sister vessel delivered several years ago to the same owner.
The all aluminum passenger vessel will operate in the waters surrounding Lagos and has seating for 30 passengers.
It is propelled by twin 250 h.p. Yamaha outboard engines and a 250-gallon fuel tank is provided.
A full-length aluminum canopy will protect passengers from the extreme heat and inclement weather that is prevalent in Nigeria.
To support periodic service and maintenance, a triple axle aluminum trailer is included in the delivery.