Passenger Vessel Market Looks up in NY/NJ Harbor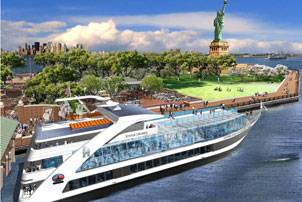 Story by Jonathan Atkin, from the October 2010 Yearbook edition of MarineNews
"Securitay, Securitay — Molinari departing Whitehall bound for St. George." Twenty-four hours a day, in NY/NJ harbor the VHF bridge-to-bridge Channel 13 crackles a non-stop symphony of thousands of "security calls." It is a veritable orchestration by captains of the Staten Island Ferry, dozens of water taxis crossing the North River or streaking up Buttermilk channel, tug boats and barges, container ships coming ʻround Bergen Point, sea-going palaces leaving three cruise ship terminals as well as dozens of passenger vessels, motor and sail, jostling for camera angles at the Statue of Liberty.
The Port of NY/NJ, is the nation's third largest port. Henry Mahlmann, President of Sandy Hook Pilots said recently, "We are at the top of the food chain when it comes to diversity, as this port shares its waterway with everything from kayaks to cruise and container ships over 1,000 feet on a daily basis, seamlessly." Nearly 12,000 deep draft ship arrivals and departures in the NY/NJ region share the same waters with passenger vessel operators.
As ferry traffic routes, dinner boats, charter vessels of all persuasion and tug and barge transits expand, along with increased sailings by recreational vessels ranging from paddlers to mega yachts, it is no wonder the USCG Vessel Traffic Service annually handles over 408,000 vessel movements in the port.
With AIS movements viewable on one's computer, the ultra high maritime traffic in NY/NJ can be easily understood by the mariner and non mariner alike. The busy port hosts over 700 annual marine events, according to USCG Sector NY. As if boat races, regattas, fireworks, and parades were not enough, the Red Bull air race, Macy's fireworks, last year's Quadricentennial of Henry Hudson's visit, Fleet Week and the arrival of the USS New York, were highlights in the port. Passenger vessels benefitted from increased opportunities for charters, dinner cruises, sunset sailings and sightseeing for the events.
The NY/NJ waterway has reached "unprecedented visibility" according to Tom Fox, founder and advisor to New York Watertaxi. He cited five governmental agencies that are seriously studying the growth and expansion of ferry service including the NYC Economic Development Commission, the Office of Emergency Management, the Port Authority of NY/NJ, NYC Planning Commission, and the National Parks. Fox said he eagerly awaits NYC's East River Ferry Service scheduled to begin in 2011.
This year, the ferry eyes of the world were focused on New York/New Jersey port, as the Interferry Conference came to New York, a change from Istanbul, a year ago. To emphasize Fox's view, USCG Sector NY reports 60 million people utilize the NY/NJ ferry system annually. Arthur E Imperatore Jr., NY Waterway President reported the region is recovering and NY Waterway ferry ridership has rebounded to 30,000 daily passenger trips. Imperatore stated, "NY Waterway has held the line on fares and taken other steps including expanded free bus service to address customers' price sensitivity." While looking forward to an improved 2011, Imperatore mentioned how visibility of the New York harbor increased as customers on the 90 Minute Harbor Tour remain interested in the details of the "Miracle on the Hudson," in which NY Waterway ferry crews rescued 143 of the 155 passengers on Flight 1549, the most successful marine rescue in aviation history.
Classic Harbor Line's Captain Sarah Greer, reported, "We didn't have a sunset cruise that didn't sell out this year," with their two very visible schooners, Adirondack, Adirondack III and the motor yacht Manhattan. Last year, she lamented it wasn't the economy as much as the weather impacting Classic Harbor Line's bottom-line. She looks forward to growth in 2011 as Scarano Boat Building of Albany, delivers a new classic 105 foot schooner, named America 2.0, harking back to the early America's Cup vessels. "It will be a tribute," said Capt Greer "to America's Cup, and a tribute to contemporary design as a 'green vessel' with electric propulsion, a freestanding carbon fiber rig and very up-to-date below the waterline configuration." The new 75 pax schooner emphasizes Capt Greer's credo, "People like to sail."
Mathias Chouraki, Sailtime NY and Luxury Yacht Partners owner, echoed the popularity of sailing. His 2011 plans will add two new 30-40 foot sailboats and two 70-80 foot motor yachts. "Customers are ready to spend money again," Chouraki commented, "More and more people are now aware of our waterfront not simply as something to see from their apartment window or landscaped promenade but how easy it is to charter a boat in Manhattan and enjoy this wonderful resource."
The resource has also not been taken for granted by Statue Cruises (Hornblower). The national impact, resulting from the wide reporting of the Statue of Liberty's crown reopening increased their bookings. "Our Ellis Island and the Statue of Liberty ferries are the clydesdales of the operation," according to Hornblower corporate public relations spokesperson, Tegan Firth. She reported Statue cruises is expanding their dinner boat and exploring new charter markets. Currently, at Derecktor Shipbuilding in Connecticut, the Hornblower Hydrogen Hybrid vessel dubbed H3 is taking shape. Scheduled to be splashed April 2011, the design features wind turbines and solar power. Upgrading their entire fleet, all their vessels will be re-engined with Tier II power plants. Firth echoed the USCG's statistics regarding marine events by mentioning the upcoming 125 anniversary of the Statue of Liberty's dedication in NY Harbor.
The Port of NY/NJ is busy and operators look forward to a robust 2011. The variety of vessel traffic is growing. Passenger vessel operators are part of the intense maritime activity. "The fact that the system operates efficiently and safely is a testament to the culture of safety and best practices followed by the port's stakeholders" said Robert H. Pouch, Deputy Commander, Operations NYNM/New York Division of Military and Naval Affairs.
Sandy Hook Pilots President Mahlmann emphasizes how the harbor community shares the NY/NJ waters with diverse stakeholders, and the need for situational awareness on the part of all operators. In spite of the wonders of AIS, GPS, VTS, Integrated Bridge Systems and I NAV apps on cell phones, Mahlmann succinctly counsels: "Look out the [expletive deleted] window!"