Patent for Colligo Marine Mooring System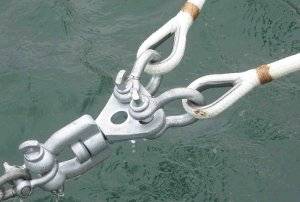 Colligo Marine has received a United States Patent for its Bridle Plate Mooring System.
The system eliminates line to line interference. Simple, lightweight and corrosion-resistant, the galvanized system maintains mooring line separation to minimize chafe and safely allows redundant lines to the mooring.
Two versions are available. One with eyebolt shackles and a premium system with safety shackles that uses nuts with cotter pins for extra security.
The Bridle Plate Mooring System is currently distributed by Taylor Made Products and available at marine retailers across the US.