Aberdeen Harbour Performance Steady on Diversity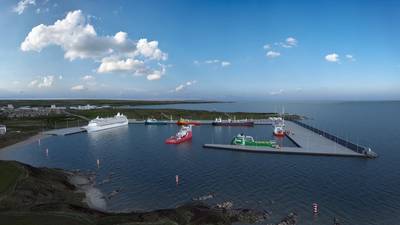 Activity at Aberdeen Harbour remained steady throughout 2015 resulting in the port recording a 9.7 percent increase in turnover, up from £28.9 million in 2014 to £31.7 million in 2015. Pretax profit was also up by 21 percent at £15.03 million, compared to £12.4 million the previous year.
A 6 percent drop in vessel numbers, from 7,937 to 7,428 is consistent with the trend for newer, larger multipurpose vessels using the port, which is evidenced by the marginal drop in overall vessel tonnage at 27.5 million metric tons, down only 2.1 percent from 28.1 million metric tons in 2014.
Aberdeen Harbour chief executive,
Colin Parker
, said, "The region has seen considerable change over the last 12 months and the repercussions of this have also had an impact on the harbor. While the high levels of traffic we have experienced as a result of the North Sea oil and gas sector has slowed, we are witnessing growth in other areas, which only goes to demonstrate the diversity of traffic using the port."
In 2015 the port handled its largest ever grain shipment at 16,500 metric tons. This figure in itself is greater than the overall tonnage of grain shipped in 2013 and has given rise to an average of 70,000 metric tons of grain shipped per year throughout 2014 and 2015.
Aberdeen Harbour welcomed traffic from 39 countries throughout 2015, which included new links with Indonesia and Libya. Regular routes to the Northern Isles remained strong, with the Serco Northlink passenger and
freight services
to Orkney and Shetland contributing to a 2.9 percent increase in passenger numbers to 158,226 from 153,756 the year before.
"In 2015, we welcomed vessels from new routes, extending our reach and connecting Aberdeen with a wider global audience," Parker added. "We also continue to see a trend for larger vessels across all sectors. In March of this year, the HHL Rio de Janerio became the longest vessel to call into port, at 168.5 meters. The biggest single vessel tonnage was also recorded in 2015 at 20,643 metric tons. This is a key driver for the potential expansion of
Aberdeen Harbour into
Nigg Bay, particularly as we see increased investment in decommissioning activity and growing interest from the cruise ship industry."
"We have had great focus in 2015 on maintaining our cost base, which has allowed the rate increases applied in the last 12 months to be converted directly into profit – thereby contributing significantly to the revenue and borrowing capabilities required to support these expansion plans," Parker continued. "The proposed deepwater quays at Nigg Bay would complement the existing capabilities, experience and established suite of service providers, already in place at the current harbor, while opening up the port to new market potential."
Although the possible expansion of Aberdeen Harbour into Nigg Bay is still a feasibility study, the three main elements of the required planning consent application, a Harbor Revision Order, Marine Licenses and Planning Permission in Principle have been submitted. A final decision on the project is expected this autumn.
"This is a critical time for Aberdeen and its future," Parker said. "The timing of the development gives us a great opportunity to build on our current traffic flows, anchor decommissioning activity in the North East of Scotland and continue to build on our strong international links."