Navy's First JHSV Visits St. Petersburg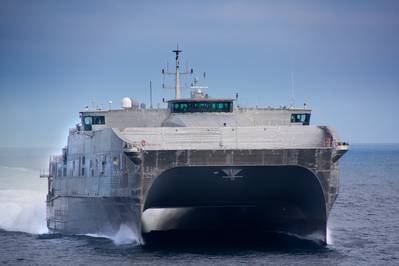 Military Sealift Command's (MSC) joint high-speed vessel, USNS 'Spearhead' visits the Port of St. Petersburg, FLA.
U.S. Rep. C.W. Bill Young, Mayor Bill Foster and other distinguished visitors from St. Petersburg joined Navy Chief of Information Rear Adm. John Kirby, Capt. Sam Norton, commander, MSC Atlantic, and Capt. Doug Casavant, the ship's civil service master, during an arrival ceremony in honor of the ship, its crew and the Navy.



The three-day port call is primarily a working visit and an opportunity for senior officials and military personnel from U.S. Central Command and U.S. Special Operations Command to visit the ship and receive briefings on Spearhead's capabilities. 


Spearhead is designed for rapid, intra-theater transport of troops and military equipment. The ship is a 338-foot-long aluminum catamaran designed for speed, flexibility and maneuverability. The reconfigurable 20,000-square-foot mission bay area can be quickly adapted to support a number of different missions - anything from carrying containerized portable hospitals to support disaster relief to transporting tanks and troops. Spearhead's crew of 22 civil service mariners works for MSC which operates, navigates and maintains the ship. 

Following its brief stop in St. Petersburg, Spearhead will transit to Mayport, Fla. for a port visit there before arriving at its final layberth, Joint Expeditionary Base Little Creek, Va., in mid-February.