$22 Mln Cocaine Bust in Port of Philadelphia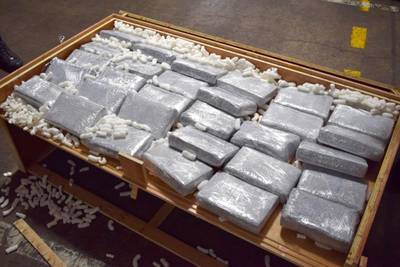 U.S. Customs and Border Protection (CBP) said its officers in the
Port of Philadelphia seized
709 pounds of cocaine concealed inside furniture on a containership arriving from Puerto Rico, the largest local cocaine load discovered by the CBP in a decade.
Officers made the discovery after detecting an anomaly in one of the shipping containers while conducting inspections a seaport in Pennsauken, N.J., on November 2.
The contents of the container were emptied at CBP's Centralized Examination Station in Philadelphia, and thorough inspection revealed 256 bricks of cocaine concealed behind false walls in several pieces of bedroom furniture and kitchen cabinets.
The cocaine weighed 321.64 kilograms, or a little more than 709 pounds, and had a street value of about $22 million, according to CBP. The bust is CBP's sixth largest cocaine seizure, and 10th largest seizure of any drug in the Port of Philadelphia.
CBP officers later discovered another nearly 30-pound cocaine load at the same seaport November 28 concealed inside a wooden chest. That load, 13.56 kilograms with an estimated street value of about $900,000, was shipped from Puerto Rico and destined for an address in Cinnaminson, N.J.
"Customs and Border Protection knows that transnational drug trafficking organizations will take advantage of natural disasters, and in this case an island struggling to recovering from a crippling hurricane, to smuggle dangerous drugs to our nation's mainland," said Joseph Martella, CBP Acting Area Port Director for the Area Port of Philadelphia. "CBP officers remain ever vigilant to interdict narcotics loads, and we are pleased to have stopped this deadly poison shipment before it could hurt our communities."
As a result of the seizure, Immigration and Customs Enforcement's (ICE) Homeland Security Investigations (HSI) Newark's Office, in Cherry Hill, N.J. initiated an investigation that is still active.
"This seizure is an excellent example of how Customs and Border Protection officers leverage imaging technology to detect and intercept an immense amount of cocaine cleverly concealed in a shipment of furniture," said Casey Owen Durst, CBP's Field Operations Director in Baltimore, the agency's operational commander in the
mid-Atlantic region
. "Narcotics interdiction remains an enforcement priority for Customs and Border Protection, and a mission that we take very serious."