Coast Guard Foundation Welcomes USCG Barque Eagle to Philadelphia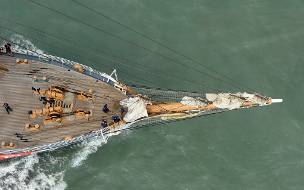 The Coast Guard Foundation announced that it will host a reception to welcome the U.S. Coast Guard Barque Eagle at the Independence Seaport Museum at Penn's Landing on March 18, 2011, from 7:00 PM to 8:30 PM. The official kick-off and first stop of the Eagle's 75th anniversary tour, the reception will raise awareness of the Coast Guard Foundation's mission to serve the men and women of the Coast Guard, as well as its support for leadership and training of the country's Coast Guard officers. Attendees at the reception will include Coast Guard Foundation guests, Atlantic-area (LANT) command and Philadelphia-area Coast Guard members, local Coast Guard Auxiliary members, Eagle crewmembers and their families, museum supporters and local officials. Guided tours of the tall ship will be given to guests prior to and during the reception.
Originally built in Germany and commissioned as Horst Wessel in 1936, the tall ship was taken as a war reparation after World War II and re-commissioned as the Coast Guard Cutter Barque Eagle. From its homeport in New London, Connecticut, Coast Guard Academy cadets and officer candidates have trained and learned leadership skills on the Eagle for over 60 years. The
Coast Guard Foundation reception
will pay homage to the Eagle's legacy and the individuals who have served and trained aboard the vessel.
"We are proud to host the
U.S. Coast Guard Cutter
Eagle reception at the kick off to its historic 75th anniversary tour," said Anne Brengle, president of the Coast Guard Foundation. "The event reinforces our commitment to the Coast Guard and its officers, and helps us increase awareness for our fundraising efforts such as our leadership training programs at the Coast Guard Academy and the Shipmate Fund, which supports enlisted members at units and sectors throughout the country."