MOL Philippine Maritime Students Graduate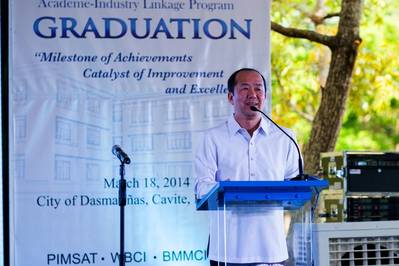 Mitsui O.S.K. Lines, Ltd. (MOL) inform of the graduation of 126 students in the third class of the "Third Year Program," which targets new seafarers from among third-year students at seven partner maritime schools in the Philippines.
MOL explains that it provides education and training at the Magsaysay Institute of Shipping(MIS), its training center in the Philippines. The program received accreditation as the equivalent to university-level education under the Academe-Industry Linkage Program promoted by the Philippine government. Selected students will be educated and trained at the MOL training institute and on MOL-operated vessels for the second half of a four-year university curriculum.

On hand for the graduation ceremony were Philippine Congressman Jesulito A. Manalo, Development Bank of the Philippines Senior Vice President Atty. Lutgarda C. Baquiran-Peralta, MOL Managing Executive Officer Masaaki Nemoto, and others. Graduates of the program will be recruited as MOL crewmembers after 12 months of training aboard one of 15 training vessels, which were specially equipped with additional cabins for cadets, and its operated vessels.

MOL Managing Executive Officer Masaaki Nemoto addressed the graduate students at the ceremony, saying: "Safe operation is the most important issue as an ocean shipping company and as a core competency to win customers' trust. This is always our top priority in every circumstance. All of you, always bear in mind that you are on the front lines helping us 'become the world leader in safe operation.'"
Form more information contact: Koichi Asada, General Manager, Seafarer Group, Marine Safety Division
Mitsui O.S.K. Lines, Ltd., Email: sfgmo@molgroup.com