USS Philippine Sea Rescues Crew off Aden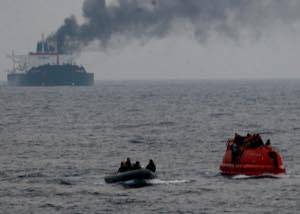 USS Philippine Sea (CG 58) responded to a distress call issued by the Marshall Islands-owned, Liberian-flagged, motor vessel Brilliante Virtuoso at approximately 3:30 a.m. (local time) July 6.
Brilliante Virtuoso, a 144,000-ton very large crude carrier, was approximately 20 nautical miles southwest of Aden,
Yemen when
they issued the call which stated they believed they were under attack by suspected pirates and required assistance. The motor vessel was travelling eastbound from the Suez Canal through the Gulf of Aden at the time of the attack.
Shortly after the suspected attack, Brilliant Virtuoso reported a fire on board which was beyond their control and that their intention was to abandon ship.
Philippine Sea, operating under Combined Maritime Forces (CMF), responded to the distress call. Upon their arrival, they observed smoke coming from the superstructure of the ship and that the crew had abandoned ship in a life-raft. They found no evidence of pirates and concentrated their efforts on assisting the crew members.
The owner of Brilliante Virtuoso has confirmed that all 26 Filipino crew members have been recovered safely by Philippine Sea.