Philly Shipyard Workers Ink Four-year Labor Deal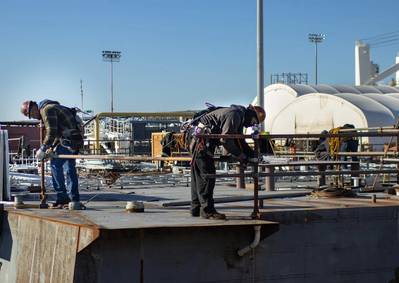 Philly Shipyard, Inc. (PSI) announced that a new four-year collective bargaining agreement has been ratified by the Philadelphia Metal Trades Council (PMTC). The PMTC is the exclusive bargaining representative for Production and Maintenance employees at PSI and consists of nine unions.
"We are pleased to have successfully ratified this agreement extending our strong partnership with the PMTC," said Mike Giantomaso, Vice President of Human Resources at Philly Shipyard. "With our record order backlog of nine ships and the currently strong labor market, we believe that this contract will allow our company to offer the competitive compensation needed to attract and retain the talent necessary for carrying out our major shipbuilding projects."
President of the Philadelphia Metal Trades Union, Lou Agre, commented, "The members of the Philadelphia Metal Trades Council are glad that we have been able to negotiate an agreement that benefits our members as well as ensures the future viability of the shipyard."
With the impacts of the COVID-19 pandemic and the national labor shortage, PSI and many other companies have felt the challenges of a highly-competitive hiring market. PSI said it is hopeful that this collective bargaining agreement will help to further position PSI as an employer of choice and will help it to attract and retain workers.