Pirate Ship 'Black Pearl' Embarks on Piggy-Back Voyage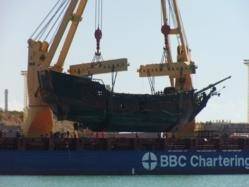 Yacht Path Marine Group were contracted to transport the 'Pirates of the Caribbean' 140-ft replica tall ship across two oceans.

The 270-ton, 140-foot custom-build pirate ship 'Black Pearl', was loaded aboard a BBC heavy lift vessel in Barbers Point, Hawaii for the three-week voyage to St. Thomas, USVI.

The replica pirate ship "Black Pearl" was most famously known for her role in Disney's blockbuster 'Pirates of the Caribbean' franchise, and was constructed over the hull of another vessel, the "Sunset", which was once used to service the oil fields in the Gulf of Mexico.

"We are honored to have been awarded this contract", said Mr. Dennis Cummings, principal and managing director of Yacht Path. "We are one of the only companies in the world with the experience and knowledge to safely perform such a complex transport project."

"We performed the loading of "Black Pearl" utilizing both ships cranes in a lift most commonly known as a "tandem lift", said Oliver Edwards, head Loadmaster for this project. The entire operational process – loading, blocking, cradling, welding and sea-fastening took approximately six hours from start to finish.

Since 2001, Yacht Path Marine Group has become the world's largest direct provider of lift-on/lift-off yacht transportation services carrying over 8000 yachts since 2001. With five offices around the world including Fort Lauderdale, Seattle, Palma de Mallorca, Ensenada, and Kaohsiung, Yacht Path is a direct provider of transportation services for sport fish, motor and sailing yachts of all sizes by ocean-going vessel.