Pipeline Fire, Bayou Perot, News Update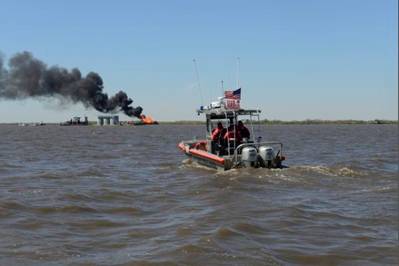 Responders prepare salvage, firefighting & pollution contingencies for a tug and barge that allided with a pipeline near Bayou Pero, south of New Orleans.
The fire reportedly has reduced in size by approximately 30 percent, and there are no reports of oil in the water. Visual imagery intially indicated potential pockets of crude oil; however, those areas have been determined to be particulate ash from the liquefied natural gas burn off.

Approximately 2,200 barrels of crude oil remain on board the barge and has not been compromised.

Resources deployed for the incident:
• The 160-foot Coast Guard Cutter Axe and crew;
• Two sections of containment boom, 6,000 feet and 7,000 feet;
• Two Marco skimmers;
• Ten response vessels;
• Two oil spill response trailers.
The unified command consists of the U.S. Coast Guard, Louisiana Oil Spill Coordinator's Office, Settoon Towing, Jefferson and Lafourche Parishes, Chevron and ES&H.

The owner of the pipeline is Chevron, and the owner of the barge is Setoon Towing LLC. The pipeline was shut on Tuesday evening, and the fire is expected to diminish as the product diminishes.

All crew members were able to exit the tug; the captain reportedly suffered second to third-degree degree burns.