New Fireboat Delivered in Pittsburgh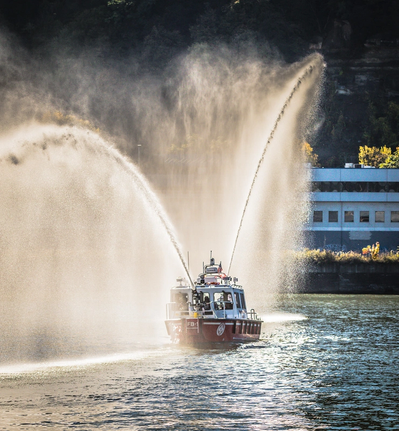 Lake Assault Boats said it has delivered a 34-foot fireboat to the Pittsburgh Bureau of Fire in Pittsburgh, Penn. The vessel is the department's first new dedicated fireboat since 1974.
The new fireboat, named after Pittsburgh's first female mayor, Sophie Masloff, who passed away in 2014, was dedicated on October 27. In a formal ceremony, the former mayor's eldest granddaughter broke a bottle of champagne on the boat's gunnel as it was launched into the
Ohio River
.
The Lake Assault deep V-hull fireboat respond to emergencies and help manage fires on the waterways, waterfronts, marinas and rail lines that lie along the Allegheny and Monongahela Rivers, which join together in Pittsburgh to form the Ohio River.
"This new fireboat will greatly enhance our department's emergency response capabilities, particularly by supporting ground-based firefighting apparatus as well as responding to on-the-water emergencies," said Darryl E. Jones, Chief, Pittsburgh Bureau of Fire.
The craft's firefighting system features a Hale 80FC pump flowing up to 3,000 gpm which is powered by a dedicated 6.6L Duramax V-8 diesel engine. The fire pump includes a 6-inch main discharge that feeds a number of outlets, including bow and stern mounted TFT Hurricane monitors, each capable of flowing 1,250 gpm. "The bow's deck gun can be operated from inside the pilothouse, and that gives us a great deal of firefighting power while keeping firefighters in a controlled environment," Jones said.
According to the builder, the pilothouse features excellent outward visibility and includes a 15,000 BTU rooftop AC unit, an adjustable (and full suspension) operator's seat, additional bench seating, SCBA mounting brackets, a chart table with storage and a cuddy cabin for general storage. The craft also features a full spectrum of
Garmin electronics
, including chart plotter, HD radar, sonar and a forward looking infrared (FLIR) system, all controlled through 12- and 16-inch touchscreens.