Inlecom, Danaos Launch eMar Software Platforms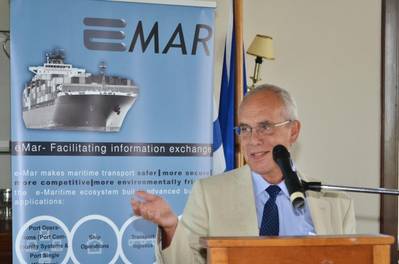 Inlecom and DANAOS announced that their e-Maritime compatible collaboration platforms enabling interoperability in shipping software solutions are now available commercially as beta versions, following successful trials with eMAR partners including DNV and Port of Valencia. The platforms have been developed as a result of the EU-funded eMAR project which supports DG MOVE with a specific focus on the EU e-Maritime initiative facilitating Information Exchange for efficient, safe and environmentally friendly maritime operations.

InleMar (the Portal to eMAR Ecosystem functions created by Inlecom) incorporates complex IT solutions providing significant business advantages for the maritime sector, without the accompanying high costs for Infrastructure setups, and custom connectivity solutions, sustaining high technological, operational and financial benefits. Connected with the DANAOS platform, the benefits are multiplied through the extended content and functionality, as well as the increased choice from shipping companies towards preferred computational options.

The DANAOS and Inlecom platforms are interoperable through the e-Maritime Strategic Framework (EMSF). This means that by joining one you have access to both, as well as any future additional eMaritime compatible platforms. The shipping operations addressed by EMSF are comprehensive and include: fleet management, personnel management, chartering, ship conditions monitoring, loading planning and optimisation, in addition to voyage management, e-purchasing, cargo management, multimodal logistics integration management, security and classification.

A number of organisations have already used the EMSF to publish information services using both the DANAOS and Inlecom platforms. DNV has used it for Navigator Port arrival and departure reporting and for a Class Status information service. Port of Valencia has utilised it for Manifest related services. EBOS has managed e-crewing, e-Statement of Fact (Electronic version of the SoF and a standard data model for communicating statement of fact information) and Energy Efficiency Operational Indicator service requirements. CLMS has used it for port formalities reporting, CO2 calculator.

Dr. Takis Katsoulakos, Director of the Inlecom Systems, commented: "The benefits of using the eMaritime compatible collaboration platforms are extensive. Cost savings and improved service quality will result from more effective planning of crew, maintenance, bunkering, fleet scheduling and voyage optimisation, as well as better planning synchronisation.

Our approach will deliver more efficient monitoring of operations and enhanced deviations management. Integrating our approach into supply chains will promote participation in CO2 optimised chains and increase capacity utilisation and better productivity whilst delivering automated compliance. It's a win-win opportunity."

He continued, "For the maritime sector interoperability limitations have seriously affected the usefulness of shipping software. To date, there has been an array of system architectures, data formats, software systems, sensing and safety devices in use in the maritime sector. Ship, port and logistics operators and national administrations have to develop several adaptors, often with a limited useful life, to integrate with a plethora of different systems they encounter in their day-to day-operations. Co-operation and optimisation is practically impossible. This development resolves these problems."

The eMAR project involves 27 partners from 13 member states working together to establish a common and efficient way for acquiring, handling, and sharing essential data. The eMAR connectivity infrastructure replaces the current maze of communication channels with seamless information flows across transport chains and shipping collaboration networks. Furthermore, it utilises the e-Maritime Strategic Framework EMSF which provides reference business processes, and supporting standard messages. EMSF is the key to developing 'semantic interoperability' to automatically interpret the information exchanged meaningfully and connect systems readily. The content of the information exchanged in the context of EMSF is unambiguously specified.