Tideland Warning Systems for Golden Eagle Platforms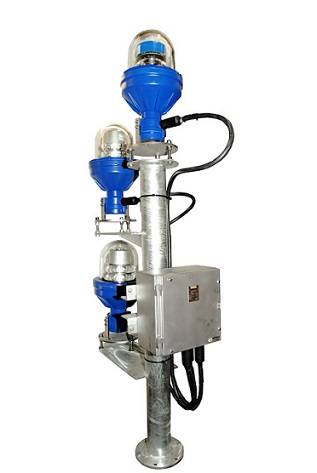 Tideland Signal supplied a package of Syncrolan LED light stations and fog signals for the Golden Eagle Area development in the U.K. sector of the North Sea, about 43 miles (69 kilometers) from Aberdeen.

Tideland's warning systems will protect both Golden Eagle's wellhead platform and the combined production, utilities and accommodation platform, which is bridge-linked to the wellhead.

Tideland's latest LED warning system installed on the two Golden Eagle platforms comprises a main Syncrolan light station with a range of 15 NM, Syncrolan fog signals, fog detector, subsidiary lights, battery banks, a central alarm and monitor panel as well as aviation obstruction lights. There is also a subsidiary MLED-150 EX marking the bridge. All the principal equipment is ATEX certified for use in Zone 1 (Cat 2) hazardous areas.

Tideland's Syncrolan light stations combine an MLED-180-HI EX main light and a MLED-150 EX secondary light wired to an Exe junction box and mounted on a galvanized steel pedestal to provide 15NM Main and 10NM secondary light as a back-up. In addition, the subsidiary beacons are Tideland MLED-150 EX units with a range of 3NM, also wired to an Exe junction box and mounted on a galvanized steel bracket.

Tideland's MLED-180Hi and MLED-150 lantern offers minimal maintenance requirements and an expected service life of 25 years on station in the most demanding environments. Long-life LEDs and high-integrity electronics are employed to maximize reliability and minimize maintenance.

The fog signal stations each comprise AB-68EX main and secondary fog signal arrays mounted on a stainless steel stands, which also incorporates two ECU 800 control units. Controls for the Syncrolan stations are located with the equipment but the central panel also indicates the status of the equipment and provides photocell override to allow the lights to be switched on during daytime and a fog signal silent switch to silence the fog signals.

Golden Eagle was discovered in 2006 and is operated by Nexen Petroleum U.K. Limited. Production is scheduled for late 2014 and the field is expected to produce at an average rate of up to 70,000 boepd. The operator will drill 20 development wells (16 platform-based and four subsea). Plans also include associated in-field and an export pipeline infrastructure.